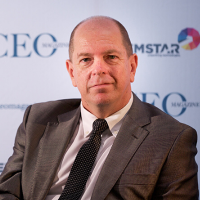 Chris Rees
Head of Partnerships and Global Engagement
Austrade
Chris is Austrade's Head of Partnerships and Global Engagement, leading a team building and leveraging partnerships with key government and private organisations to contribute to Australia's success in international business, and helping deliver Austrade's newly developed client services. Chris is also responsible for Austrade's Indigenous International Business Strategy, and is Austrade's Indigenous Champion.
Chris has had a long background in international trade and investment. He worked in the private sector in chemical and oil trading, executive recruitment and food packaging and manufacturing – in Australia and in Japan – before joining the government.
Chris joined Austrade in 1992 to establish Austrade's office in Fukuoka in southern Japan. He returned to Australia in 1997 as Regional Trade Commissioner based in Brisbane, covering Brisbane and Central Queensland.
Chris served in Hong Kong as Senior Trade Commissioner and Deputy Consul General (Commercial) from 1999 till early 2003, before moving to Adelaide as State Manager South Australia from 2003 til 2008. From 2009-2013, Chris was Consul General and Senior Trade Commissioner in Osaka, Japan.
Chris was Senior Trade Commissioner in Singapore, 2013 to 2016, when he returned to Australia to head up Austrade's Northern Australia Investment program.
11:10 am - 12:40 pm | ICC Sydney

This session has been specifically developed for businesses wanting to forge new relationships in the international market.

Join us to hear from businesses with existing export arrangements and those making new connections in the international market.