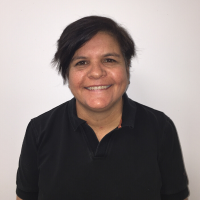 Triscilla Holborow
CEO
REFAP
Triscilla founded REFAP in 2010, acting on her passion to help Aboriginal people make the most of their opportunities and find real employment.
Triscilla has more than 25 years' experience working in the mining and oil and gas sectors. She has excelled in various roles, including managing large earth-moving teams, consulting to Aboriginal organisations, developing and deploying safety and risk management strategies, and delivering and developing training programs.
She has also won several awards relating to Aboriginal employment. Triscilla is a Traditional Owner from the Yaburara and Yindjibarndi tribes, and she regards her greatest achievement as being able to support her community.
She is passionate about helping Aboriginal people obtain meaningful and long-term employment – engaging and up-skilling communities for a better future.
BUSHLOLLY FARM
Reedy Creek Nursery is a commercial propagating nursery, owned and run by Triscilla Holborow, who is a traditional owner from the Pilbara Western Australia. Reedy Creek is 20km south of Kingston. Bushlolly is promoting the Australian native food industry by developing the native food industry and supporting a network of production sites within traditional Aboriginal communities. The cultivation of Australian native food provided Indigenous Australians with jobs and training in horticulture and the food industry.
BUSHLOLLY CAFÉ
Established in 2016, Bushlolly Enterprises Pty Ltd (Bushlolly) opened Bushlolly Café in Karratha to support REFAP's strategy and philosophy of providing employment opportunities for local and Indigenous people with the use of native produce to support modern cuisine.
REFAP INDUSTRIAL SERVICES
Established in 2017, REFAP Industrial Services (RIS) services commercial and private clients across the Pilbara and includes a self-service laundromat and dry-cleaning facility, a commercial laundry and the delivery of facilities services including commercial cleaning.
1:45 pm - 3:15 pm | ICC Sydney

However, to many Indigenous people, this is no new concept. Today we have many Indigenous businesses cultivating the land and using native ingredients in food and personal care products just as generations had done before.

In this session you will hear from Indigenous business owners who are growing, sourcing and using native ingredients for which there is a high demand in the commercial landscape.