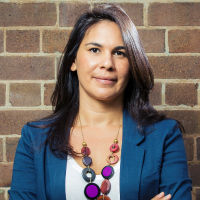 Natalie Walker
Founder and Managing Director
Inside Policy
Founder and Managing Director of Inside Policy, Natalie has over 16 years experience working in and with the corporate, small business, government and not-for-profit sectors on various social and economic policy.
Her previous roles include:
- Founding CEO of Supply Nation
- Project manager in KPMG's Health and Human Services Practice
- Advisor to the Aboriginal and Torres Strait Islander Social Justice Commissioner at the Australian Human Rights Commission
- Various policy and program management roles in Queensland Government Department of Communities.
Natalie specialises in assisting Inside Policy clients to understand complex policy problems, identify the core issues and design ways forward.
Natalie combines her love of data, her facilitation expertise and her design thinking to help clients think clearly.
11:10 am - 12:40 am | ICC Sydney

You're invited to hear from members of both the Leadership Roundtable and Indigenous Business Advisory Groups on the key elements of these outputs and the important role each of these initiatives play, in creating a sustainable business sector.