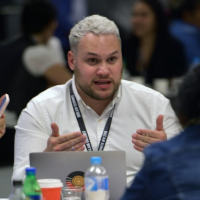 Leroy Wilkinson-Maher
Founder and Managing Director
Dhiira
Leroy is a Worimi and Ngarrindjeri man born in Taree, regional New South Wales, and having spent the majority of his life in Newcastle, New South Wales, Leroy is a young Aboriginal leader that has a passion for innovation and positive change.
Leroy has had a successful Executive Leadership career in the Aboriginal Not-For-Profit Employment sector with a background in Banking and Finance.
Leroy is the Founder and Managing Director of Dhiira Pty Ltd, an Aboriginal Consultancy Business focussing on bringing true inclusion into the HR realm through 'Aboriginal HR',
Humanising business through Culture. With Leroy's lens on the world being one of opportunity not challenge or obstacle he is forging a new lane.
Leroy is an innovator, a creative, a fresh thinker, non-conventional, far too energetic, does not have an 'inside voice' and is on a mission to change the game and flip the script.
11:10 am - 12:40 am | ICC Sydney

Join us to hear about the journey of these inspiring young entrepreneurs and how they are bringing others along with them.