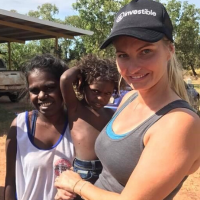 Kylie-Lee Bradford
Founder
Kakadu Tiny Tots
Founder Kylie-lee is a proud Murrumburr women who grew up in a small Aboriginal community called Patonga in the heart of Kakadu National Park. Her company Kakadu Tiny Tots was completely inspired by her mum Sheril who is a traditional owner and well respected elder of this region.
Founded in 2016 Kakadu Tiny Tots is an Indigenous owned company from Kakadu NT creating beautiful organic baby and children's clothing that features hand painted Indigenous art and designs. Every little piece created comes with its own Dreamtime story.
Kylie-Lee and her mum were featured on the show Shark Tank after developing a sample run of designs and were offered two investments from two different Sharks which they turned down due to their mission to help Indigenous women and children in rural communities.
The company now called Kakadu Organics has grown incredibly fast over the last couple of years. Stocked in over 80 boutique stores around Australia including domestic and international airports. Now producing eco organic Indigenous products including Native bush food, Wild Harvested skincare products and baby wear.
Kylie-Lee is extremely passionate about helping Indigenous women entrepreneurs shine through her platform, as well as providing ongoing mentoring and support for Indigenous women as they go through their start up business journey especially those who are living in rural Aboriginal communities.
The Kakadu Organics team is very excited to launch their new platform that will provide a tech solution for Indigenous women in communities providing culturally sensitive workshops, mentoring and development.
1:45 pm - 3:15 pm | ICC Sydney

However, to many Indigenous people, this is no new concept. Today we have many Indigenous businesses cultivating the land and using native ingredients in food and personal care products just as generations had done before.

In this session you will hear from Indigenous business owners who are growing, sourcing and using native ingredients for which there is a high demand in the commercial landscape.