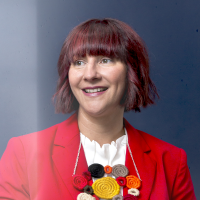 Kathryn Potter
Managing Director
Physiotherapy Innovations
Kathryn Potter is a Kamilaroi woman entering her 7th year in business as the Managing Director of Physiotherapy Innovations commercialising the product Therabubble. As an experienced physiotherapist, who has worked in the public health service for 16 years, Kathryn was well positioned to co-design Therabubble, a respiratory medical device used by physiotherapists to help patients clear their lungs and improve ventilation.
Kathryn has successfully scaled the business from a small partnership operation to the proprietary limited company that continues to expand its international presence today. Therabubble has already been a game changer for hospital and health services across Australia and New Zealand and with international patents, Physiotherapy Innovations will continue to export further afield in 2020. Physiotherapy Innovations is proudly Supply Nation Registered.
Whilst expanding the business Kathryn sits on multiple boards and committees advocating for Indigenous health and Indigenous economic development. Namely the You Fella Me Fella Mentoring Program Advisory Board, Logan Hospital Close the Gap Committee, The Australian Physiotherapy Association Aboriginal and Torres Strait Islander Health Committee, The Central Queensland University Physiotherapy Course Reference Committee and is a member of The Australian and New Zealand Indigenous Women in Business Leadership Group.
Kathryn enjoys working from multiple platforms to help people and to give back to the Indigenous community wherever possible. Her work was recently recognised when awarded from the Queensland branch of the Australian Physiotherapy Association for her contribution to Indigenous Health in 2018. Furthermore, her business won a major category award for Community Contribution in 2019 at the Logan Business Distinction Awards.
11:10 am - 12:40 pm | ICC Sydney

This session has been specifically developed for businesses wanting to forge new relationships in the international market.

Join us to hear from businesses with existing export arrangements and those making new connections in the international market.