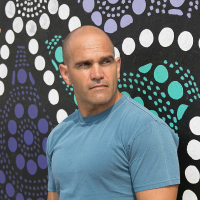 Jeffrey Morgan
Founder
The Lifestyle Program
Jeffrey Morgan has overcome multiple forms of adversity throughout his life to become a successful trainer, nutritionist and health and wellbeing expert.
Jeff is a proud Kamilaroi man from Walgett, NSW and grew up in Eveleigh Street, Redfern. He sadly lost both parents to cancer, one brother to suicide and the other to a preventable illness. To honour his family's memory, Jeffrey made it his mission to empower everybody to live a healthy life by helping them to make better lifestyle choices.
To achieve this, he founded 'The Lifestyle Program' which has helped thousands of people worldwide adjust their old habits to create a healthy and sustainable lifestyle.
Jeffrey delivers workshops to youth on leadership, decision making and goal setting and is involved in numerous programs in schools.
He also works within a vast number of communities, delivers corporate health and wellbeing workshops and speaks at national events across Australia, where he shares his passion and expertise in nutrition, health and wellbeing, mindset, fitness, habits and rituals.
In addition, Jeffrey hosted his own TV show, 'Jeffrey's Healthy Tips' on National Indigenous Television (NITV) and currently has a podcast with NITV. Jeffrey is an ambassador for the Ministry of Health, NSW Health, Mayi Kuwayu, NITV and Supacore.
Utilising his degree in nutrition and 20 years in the fitness industry Jeffrey has also worked in consultancy roles with NSW Health, NSW Education, the NRL, Netball Australia, the City of Sydney and the AFL.
11:10 am - 12:40 am | ICC Sydney

Unfortunately, we can also experience lateral violence which can be disheartening. These factors can distract us from remembering why we got into business and what is truly important to us. This session was developed to provide you with useful tips and reminders to ensure that you are looking after yourself.

Speakers announced soon.