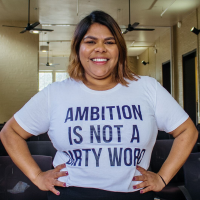 Dixie Crawford
Managing Director
Source Nation
Dixie is a Barkindji woman from Broken Hill and Brewarrina. Dixie is a business owner, risk-taker, irregular gym member and Hilltop Hoods ride or die. Dixie operates two businesses, a consultancy agency Source Nation and carpentry company in Western Sydney. Dixie's intention is to challenge the status quo and have tough enough conversations where we are each faced with the defining moment to either:
a) accept this is just the way things are, or
b) level up and be the change in the world we want to see.
11:10 am - 12:40 am | ICC Sydney

Join us to hear about the journey of these inspiring young entrepreneurs and how they are bringing others along with them.