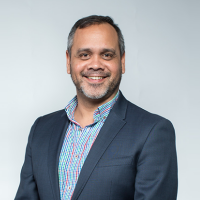 Charles Prouse
Social Diversity Supply Chain Manager
Lendlease
Charles is a Nyikina man from the Kimberley, Western Australia. He joined Lendlease in 2016 to develop and then launch their Indigenous procurement program, Gymea. Since then, Lendlease has spent more than $126M with more than 120 Supply Nation suppliers.
Charles has worked with Lendlease teams across the country to increase their spend; identify Indigenous suppliers for their supply chain; improve their monitoring and reporting systems; and enable Lendlease people to access the information they need understand the growing Indigenous business sector.
He has recently been appointed to the newly created role of Social Diversity Supply Chain manager. The role makes him the first First Nations Australian to lead supplier diversity internationally within a corporate. Lendlease will build a program that supports diverse suppliers in the regions it operates - Europe, the United States and Asia.
He has a Masters in Public Administration from the Harvard Kennedy School of Government.
He has held the roles of CEO of Supply Nation and CEO of the National Aboriginal Sporting Chance Academy in Redfern. He has worked in the Kimberley Land Council and Native Title Services Victoria to promote Caring for Country programs and was involved in the early establishment of the national Indigenous Ranger network.
He has been the Chairman of the Australian Indigenous Leadership Centre and currently sits on the boards of The Benevolent Society and The Aurora Education Program.
1:45 pm - 3:15 pm | ICC Sydney

In this session you will hear from two of our members from both the private and public sector. As they navigate their supplier diversity journeys and outline their lessons learned on their commitments to increasing Indigenous procurement. Gain a deeper insight into success factors, challenges and barriers from both an internal and external perspective.