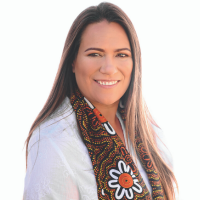 Bianca Stawiarski
Warida Wholistic Wellness
Bianca Stawiarski is a strong Badimaya woman, committed to driving community change in the mental health and wellbeing space on a global scale. Although living in South Australia, she treasures times when she can return to Badimaya country with her teenage / adult children and reconnect. Her Supply Nation certified company, Warida Wholistic Wellness, takes it's vision of holistic wellbeing from warida (wedge-tailed eagle in Badimaya). This encourages wellbeing to be viewed through warida's eyes, from above and seeing how everything interconnects: social, emotional, cultural, physical, spiritual, nutrition, connection to country and the environment, as well as language. With global communities in crisis, Bianca is absolutely passionate about empowering people to explore and embrace their unique inner fire while at the same time encouraging those same people to assist others within their community to also embrace their fire.
Bringing a balance between western qualifications and her Indigenous spiritual side, Bianca offers trauma-informed counselling, transformational coaching, equine assisted psychotherapy, wayapa and horse archery as tools for healing – delivered across Australia and internationally. Her training consultancy service focuses on delivering quality training in the wellbeing and therapeutic healing space. She also offers local and international wellbeing retreats, plus delivers online transformational coaching courses to clients around Australia, UK, Brazil and the US – soon to be expanded to all parts of the world. With the World Health Organisation classifying burn out as a global concern, Bianca is endeavouring to raise the importance of self-care within the business and social enterprise sectors; and also volunteers her time to mentor in the Strong Women Strong Business forum.
Warida Wholistic Wellness has been recently featured in SBS Small Business Secrets, NITV and Sydney Breakfast Radio (2SER), plus as previous trading names in the past on Seven News, ABC News and ABC country radio, Youthwise Magazine (Youth mental health magazine), Bunyip Newspaper, Port Lincoln Times, Ceduna Sentinel, The Koori Mail, Southern Cross Television, Moral Fairground Social Enterprise, Impact Boom, Equestrian Australia, Horse SA and others.
11:10 am - 12:40 am | ICC Sydney

Unfortunately, we can also experience lateral violence which can be disheartening. These factors can distract us from remembering why we got into business and what is truly important to us. This session was developed to provide you with useful tips and reminders to ensure that you are looking after yourself.

Speakers announced soon.