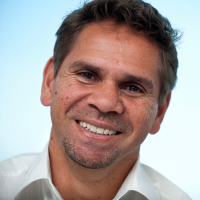 Allan James
CEO
Carey Group
Allan James is a Tjupan Wongi man raised in the remote Northern Goldfields region of Western Australia. An accounting graduate of Curtin University, Allan has a strong commercial background, with broad exposure across the auditing, insurance and risk management sectors. 
Allan has an extensive history in the mining sector having previously held several senior management positions within Rio Tinto, BHP Billiton and Newmont and is highly experienced in leadership, policy development, communications and strategic planning. Allan is currently the CEO of Carey Group; one of the largest 100% Aboriginal owned and operated civil and mining business in Australia.
Allan is an active Director and Co-Chair of the Tjiwarl Aboriginal Prescribed Body Corporate and Rockhole Indigenous Funds Management.
Allan is passionate about changing the dialogue for Aboriginal Australians and believes that culture, education and employment are the key to leaving a positive legacy.
11:10 am - 12:40 pm | ICC Sydney

This session has been specifically developed for businesses wanting to forge new relationships in the international market.

Join us to hear from businesses with existing export arrangements and those making new connections in the international market.